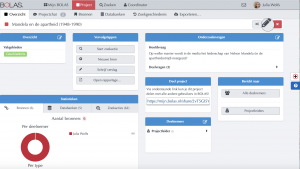 Het delen van een project kan met mensen binnen en buiten je projectgroep.
Als projectleider kun je mensen toevoegen of verwijderen. Ga naar de homepage van het project dat je wilt aanpassen. Klik op het pennetje en voeg mensen toe en/of verwijder personen.
Je kunt op die plek ook je thema/vraagstelling wijzigen of andere dingen veranderen. Zie de afbeelding hierboven waar rechtsboven een vergrootglas met pennetje staat.