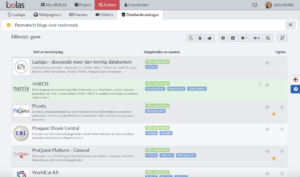 Je kunt veelgebruikte databanken favoriseren. Daarmee zijn ze vindbaar binnen ieder lopend project. Je kunt de databank ook opslaan binnen je project. Hoe doe je dat?
Ga naar de databankcatalogus;

Zoek naar relevante databanken, op vakgebied (bijv. filosofie), type (bijv. brieven) of via het vergrootglas (zie pictogrammen rechtsboven);

Favoriseer je keuze (via het sterretje, rechts van de beschrijving van de databank) of sla de databank op binnen je project (zie pictogrammen).